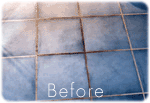 Natural stone is a lovely addition to your homes decor. Natural stone gives off a timeless, classic appearance, generating a sense or warmth and richness to the environment. Examples of natural stone include granite, marble, limestone, sandstone, onyx and slate. Over time, your homes natural stone may lose some of its luster and will require a good cleaning. How you proceed with this cleaning and sealing depends on the type of natural stone, and where the stone is used. For instance, natural stone cleaning and sealing in Dublin, CA procedures may differ if your stone is used for flooring as opposed to walls, counter tops or shower walls.
Our staff of trained technicians are experts in the art of cleaning, sealing and maintaining your natural stone flooring. Our entire team of cleaning professionals are equipped with all the tools, as well as knowledge, to ensure that your stone will be restored to its original splendor. We'll work hard to replenish your stones natural beauty, whether it is interior or exterior stone. Our cleaners will proceed to examine your stones surface, determine the best possible course of action, cleaning and sealing solutions. We proudly handle both residential and commercial properties, providing them with the best natural stone cleaning and sealing services available.
If your natural stone suffers from surface abrasion such as scratches, we will refinish the stone, leaving it more beautiful than the day you had it installed. Our crew will be more than happy to speak with you regarding regular care and maintenance of your natural stone, as well as procedures involved in keeping it that way for as long as you own it. We are experts in deep stone cleaning, stone sealing, color enhancing, stripping, as well as grout cleaning and sealing. Other services include stone crystallization and refinishing, diamond honing and polishing and lippage removal. Call us today for an estimate regarding your natural stone cleaning and sealing in Dublin, CA needs, and one of our knowledgeable customer service agents will be more than happy to answer any and all questions and schedule an appointment.