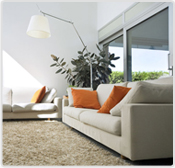 The rug in your home just does not look the same as it looked when you first brought it home and put it in place in your living room. You were excited about the rug when you bought it, but now you kind of wish that you did not have. That rug has been through a lot, and all the wear and tear that it has faced is showing. It is important for you to find a way to give that rug new life so that it will look better in your home. You do not want to throw the rug out, so you need to figure out how you can get it cleaned. We are here to provide you with area rug cleaning services in San Ramon, CA that will help you make that rug look nice again.
You need to find someone who will take the rug that is a part of your home and use the best kinds of products to help it look nice again. You need to find someone who understands which products can be safely used on that rug and which are going to mess with the way that it looks. When you let us help you out, we will make sure that the products that are used on your rug are right for that rug. We will make sure that anything that is used to clean the rug will only help it to look better and not worse in any way.
When you are paying someone to clean your area rug, you want to know that they will do the job at a fair price. When you let us handle your area rug cleaning services in San Ramon, CA, you can know that we will keep things affordable for you. We will not overcharge you for any work that we complete.