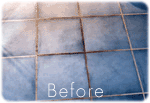 If you have natural stone pieces as part of your home and you love the way that they look, you need to find someone who will keep them looking great and who will help you care for them. Natural stone can add to a home in big ways and help the place to be stylish and special, but it requires special care to stay in good shape. You cannot rely on just anyone to clean and seal natural stone. You need to find natural stone cleaning & sealing in Dublin, CA help from those who know what to do. We are here, and we know just what kind of help you need.
We know what it takes to clean natural stone finishes and to do that without damaging the stone in any way. We are the kind of company that is set up with all of the supplies that we need to handle such a job. You can trust our team to come to your home and take care of your natural stone surface without bringing about any kind of damage and without creating a mess of any kind. We know how to clean without messing up the finish on the stone and without causing problems.
When you are looking for natural stone cleaning & sealing in Dublin, CA help, you should find someone who will clean the stone piece and seal it without making you pay too much to get their help. You deserve to have the work completed by professionals, but you also deserve to get help without spending too much money. You can trust that our team will give you the results that you are looking for when it comes to your stone finishes in your home without making you pay too much to get that kind of help and the finish that you want.