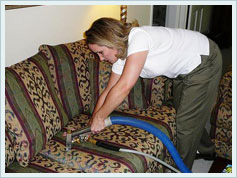 Upholstery is mostly overlooked when cleaning the house. This should not be the case since it plays a very important role in the house. For example, you spend most of your time seating on the chairs but it's the carpet that gets most of the attention when it comes to cleaning schedules. Upholstery cleaning in Lafayette, CA also presents several advantages. For example, it helps eliminate pathogens and dirt that might pose health risks to your family. When choosing a cleaner, you should consider a few things.
The expert you hire should be able to do thorough cleaning using the right methods and tools. Since there are different materials used in upholstery, this is very important. If you choose someone who sees the material you have for the first time, you might end up with a stain or worse. Proper removal of cleaning agents once the job is done is also important because your upholstery might end up smelling worse than they were when dirty if chemicals are not removed properly.
The upholstery cleaning expert you hire should also be able to dry the items properly. Fear of having clean but improperly dried items is what keeps many people from having their seats and other upholstery cleaned. This is because dampness can breed mold or weaken the fabric due to shrinkage. When an expert steam cleans your upholstery, chances of this happening are eliminated.
You should also consider the level of convenience when looking for upholstery cleaning in Lafayette, CA experts. Ideally, they should be able to clean your items with minimal movement. It helps save time and eliminates chances of something being damaged during the cleanup process. Therefore, an expert with portable equipment would be a great choice. If you find an expert who meets all these conditions and charges a fair price, you can have your items cleaned regularly.