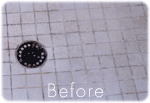 Make a Statement with Tile
Tile and grout are the most common staples in any home renovation. Updating your home with a fresh new tile back splash for your kitchen can transform the feel of your home. Having new tile framing your fire place can turn that outdated hearth into a steamy oasis. Who does not like the idea of staring at a beautiful fireplace surrounded by clean beautiful tile? A schedule tile and grout cleaning in Walnut Creek, CA can keep this oasis maintained.
Make A Tile Splash in Your Bathroom
Your bathroom can be decked out in new tile. Tile can update a shower, the floor and the walls. You are not limited to one type of tile. You can mix and match your tile to create a one of a kind design for your home. All this tile requires tender love and care. You have spent hours deciding on the perfect tile to compliment your home. Do not let your hard work go to waste by dropping the ball when it comes to maintaining the tile and grout.
Call your local professional Earth Friendly Carpet Cleaning. They offer a tile and grout cleaning service for busy people who take pride in their homes appearance. Why waste your off-time cleaning tile and grout, when a professional can be in and out in no time. Your tile and grout will be clean efficiently and thoroughly.
Cleaning tile and grout cleaning in Walnut Creek, CA is not easy. If done wrong, the grout can be compromised and the tile can be damaged. Do not risk your gorgeous design by trying to clean your tile and grout yourself. Let the professionals help you make your tiles and grout look fresh and new again.