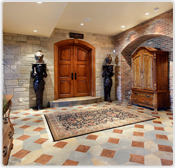 People do not realize how much dirt can collect in the rugs in their home until they choose to have someone come to the home and clean those rugs. Area rugs can be ignored repeatedly as the rest of the home is cleaned because people do not realize that they get dirty, too, and they are in need of help. It takes a certain kind of care to clean an area rug, and we are here to handle that kind of work. We know how much dirt can collect in a rug, and we can take on area rug cleaning in Lafayette, CA work quickly and successfully.
The one who is looking for help with area rug cleaning in Lafayette, CA so that they can make sure that their whole home is fully cleaned should seek out those who have experience working with rugs. They should look for those who have cleaned rugs made from all kinds of materials. If a rug is not cleaned properly, its colors can bleed, or it can fade. A rug can fall apart if it is not cleaned with care. Our team handles area rug cleaning work in a way that helps the rugs that we work on stay in the best shape.
When someone is looking for those who will clean their rugs for them, they need to find those who will take care of the work quickly and for a low cost. No one wants to watch someone spend hours working on their rugs and then receive a bill that is crazy for the work that was done. We are here to handle area rug cleaning work in an efficient way. We will be quick as we move over the rug, but we will still do a good job. We will charge a low price for our services.