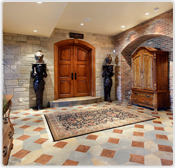 Your decorating style led you to use beautiful and expensive area rugs to create a rich and inviting ambiance in your home or business. To protect your investment and to keep your floor coverings looking their best, professional area rug cleaning in Lafayette, CA is a service you will not regret arranging.
Stains, soils, and dirt do not simply affect the look of your area rugs. Failure to thoroughly remove dirt and debris can prematurely age your rugs, causing fibers to release and backings to delaminate. The surface of your rugs compacts, grinding the dirt ever deeper. An expert cleaning by technicians trained in area rug maintenance can make your rugs look new again.
In addition to looking dingy, a dirty area rug can also trap unpleasant smells and even hazardous substances like bacteria, viruses, and molds. If you have little ones playing on your area rugs you need them to be clean and fresh, free of substances that could harm your family and friends. Pets can soil areas with waste, and food and beverage spills can encourage mold growth. Keeping your area rugs clean limits everyone's exposure to irritating or dangerous residues.
The floor under your area rugs also benefits from regular cleaning. Grit and fluids can penetrate to the surface of the underflooring, causing scratching, removing finishes, and even warping or buckling hardwood, laminate, or other floor coverings. One of the purposes of an area rug is to protect the floor beneath. Just the opposite results if the areas rugs are not kept stain and dirt-free.
Area rug cleaning in Lafayette, CA is not a task that is easy to do for the property owner. Especially if the square footage of the rug is large, it is difficult to clean, rinse, and dry it. Professional area rug cleaning is a specialty of Earth Friendly Carpet, and we look forward to evaluating your needs and then delivering on our promise of fresh and clean area rugs.