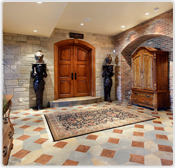 The area rug in a home will cover hardwood, tile, and other hard flooring. There are times when the area rugs become dirty and they need to be cleaned. Professional area rug cleaning in Lafayette, CA can make sure the area rug is clean and spotless.
If a person tries to clean their area rug on their own, they can do more harm than good. Some people scrub too hard and use the wrong cleaning solutions. This can cause tears in the rug as well as discoloration. Professional areas rug cleaners can make sure the rug is clean without causing any form of damage.
The professional cleaners realize that every area rug is different and will require different cleaning techniques. The cleaner will look at the area rug and where it is used. Some rugs get a lot of traffic and others may be highly soiled. This will help them determine the proper cleaning solution to use on the rug. They will help get the dirt out of it without causing any kind of damage.
The cleaners have a hot water extraction method that they use to clean the rug. This method is gentle and effective at getting out the dirt and making the rug look new again. Some area rugs are very delicate. They will take extra care in making sure that the rug comes out clean without causing any form of damage. The cleaners are highly trained before they are allowed to work on these types of rugs. This means they will be gentle and will be able to restore the rug to its original beauty.
When a person is looking for professional area rug cleaning in Lafayette, CA they should contact a professional. They use advanced methods to make sure the rug will come clean and will restore the area rug to its original state.