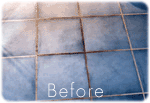 For you to increase the lifespan of your tiles, you need to maintain them properly. Regular cleaning by a professional is one of the ways to maintain your tiles. Hiring a professional to clean your tile and grout in Walnut Creek, CA has a lot of advantages and most homeowners prefer hiring professionals to clean their tiles and grout. If you try doing it yourself, you may end up damaging your tiles because they are delicate and require intensive skills and experience to clean. You will benefit from the following if you hire a professional:
• Tile and grout cleaning is quite demanding and hence takes a lot of time. When you hire a professional to do it, you save a lot of time which you can use on other things e.g. work, being with friends or family etc.
• You reduce the risk of damaging your tiles and grout by either use of wrong cleaning chemicals or limited cleaning skills. A professional understands what he or she is supposed to do and chances of damaging your tiles is minimal
• The use of truck mounted cleaning machines is very important because it extracts dirt grease and grime that could be embedded in your tile and grout
• Saves you money. Cleaning your tile flooring costs much less than replacing it in case you don't clean it thoroughly or you've damaged your tile flooring when cleaning it yourself
• You will have guaranteed professional cleaning. After hiring a professional tile and grout company that has experienced workers, you will not only have guaranteed professional cleaning services but also a warranty for the services offered
However, when choosing a professional tile and grout contractor, there are somethings you should consider making the right choice:
• Make sure that they are licensed, insured and bonded
• Inquire about their cleaning experience and if possible ask for reviews from previous clients
• To avoid disagreements and problems after getting their services, get an estimate after they have assessed the area to be cleaned
• Inquire the cleaning method and equipment they'll use when cleaning your tile and grout
• Hire a professional company whose workers have specialized in cleaning tile and grout
If you consider these factors when choosing a professional cleaning company, you will end up hiring the right company. You can be reassured that we will take care of all the professional tile and grout cleaning in Walnut Creek, CA that you need.