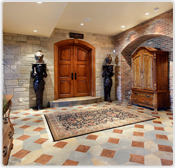 Area rugs are often used to accessorize homes to brighten up a room, cover hard floors in the central living area, absorb sound, and even to make a grand wow entrance in the entry of a home. They are beautiful indeed and will make any furniture look great in a room.
To keep your area rug looking nice, let's talk about a few tips:
• Area rug cleaning in San Ramon, CA should not be done with store-bought shampoos. Store-bought shampoos are designed to clean large areas such as wall to wall carpeting.
• Rotate regularly. By rotating your rug, it will help reduce the damage of sunlight and foot traffic.
• Rug pad. A rug pad will help reduce rug wear and slipping on the floor's surface.
• Roll rug. If you move and want to transport your rug with you, it's best to roll vs. fold it.
• Vacuum or sweep regularly. By regularly vacuuming your area rug, you help rid dirt and dust from accumulating.
• Spot Clean. Spot clean any spills immediately. Always reference the care tag for methods to clean spills.
• Leave it to the professionals. You've spent the money to purchase a beautiful rug for home. Area rugs are made of many different fibers. A professional will ensure your rug is cared for properly.
High traffic areas such as entryways may need a little extra tender loving care. A great way to get around that a bit is to use a dark color rug.
Just as wall to wall carpet, area rugs require a bit of professional cleaning as well. When you have professional area rug cleaning in San Ramon, CA, you will have an expert come out to inspect the fibers and recommend the best approach to care for your rug. Think of the investment you've made and how beautiful your rug will remain.