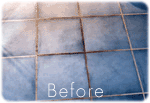 There are tasks around our home that many consumers know they need to take care of, but keep putting them off. One of those is tile and grout cleaning in Pleasanton, CA around our showers in our bathrooms, the back splash in our kitchens and even the tile on our kitchen floors or other rooms. If you have tile, you have grout and sometimes it really does not look very good due to spills on floors or buildup of soap and calcium in shower stalls.
If you have tile in your home and have been procrastinating, why not hire J & J Floorcare for high quality tile and grout cleaning services. Let them know how many rooms, whether it is a floor, back splash or shower stall and the approximate area. They can provide you with an estimate and an appointment to come to your home to clean your tile and grout.
The color you choose for the grout does make a difference in terms of showing the dirt and grime that can build up. Even if clients chose a dark color they are still amazed at how much dirt and grime is removed even on a clean looking floor. We clean all of the tile and pay special attention to the grout to ensure everything is as clean as it was when it was first installed.
Sometimes grout will become brittle and crack. It can fall out leaving a small hole for more dirt and grime to build up or worse for water to penetrate. This phenomenon is not unusual for older tile installations and consumers should not be surprised when this happens. As our team is cleaning your floors we can point out any areas that need to be repaired.
Call us today to make an appointment for quality tile and grout cleaning in Pleasanton, CA.