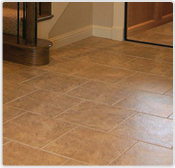 The stone flooring in your kitchen looks great and adds style to your home but needs cleaning. If you want your flooring to be grime and dirt free, we highly recommend that you hire us to do the job. We have been in operation for many years and provide top-rate natural stone cleaning and sealing in Livermore, CA. Our crew members are well experienced and have the expertise to do the job right. You can trust our skilled technicians to effectively and safely clean your stone floor and to make it shine like new.
Daily wear and tear will remove the shine from your flooring and make it look dull. Also, your beautiful flooring can become scratched, etched and scuffed by shoe heels, kitchen table and chair legs. In addition, water marks and dropped foods and beverages can mar and stain stone flooring. Our technicians are very efficient and will inspect your stone flooring to determine the best cleaning method for your type of floor. We are experts when it comes to natural stone cleaning and sealing and will use professional grade equipment and cleaning agents to clean and hone your flooring.
If you want your lackluster kitchen floor to be restored and to have a clear shine once again, we are the best place to call. We offer first-rate services that will not be matched or surpassed by any other company in the region. Once your floor has been cleaned and honed and polished, the crew will seal your floor to protect it against moisture, stains, dirt, etching and scuffing. Sealing your floor will also protect it from being marred by grease splatter and spilled, foods and drinks. We offer top quality natural stone cleaning and sealing in Livermore, CA, so contact us today. When the job is complete, we guarantee your stone floor will look pristine.